Protection For Everyone!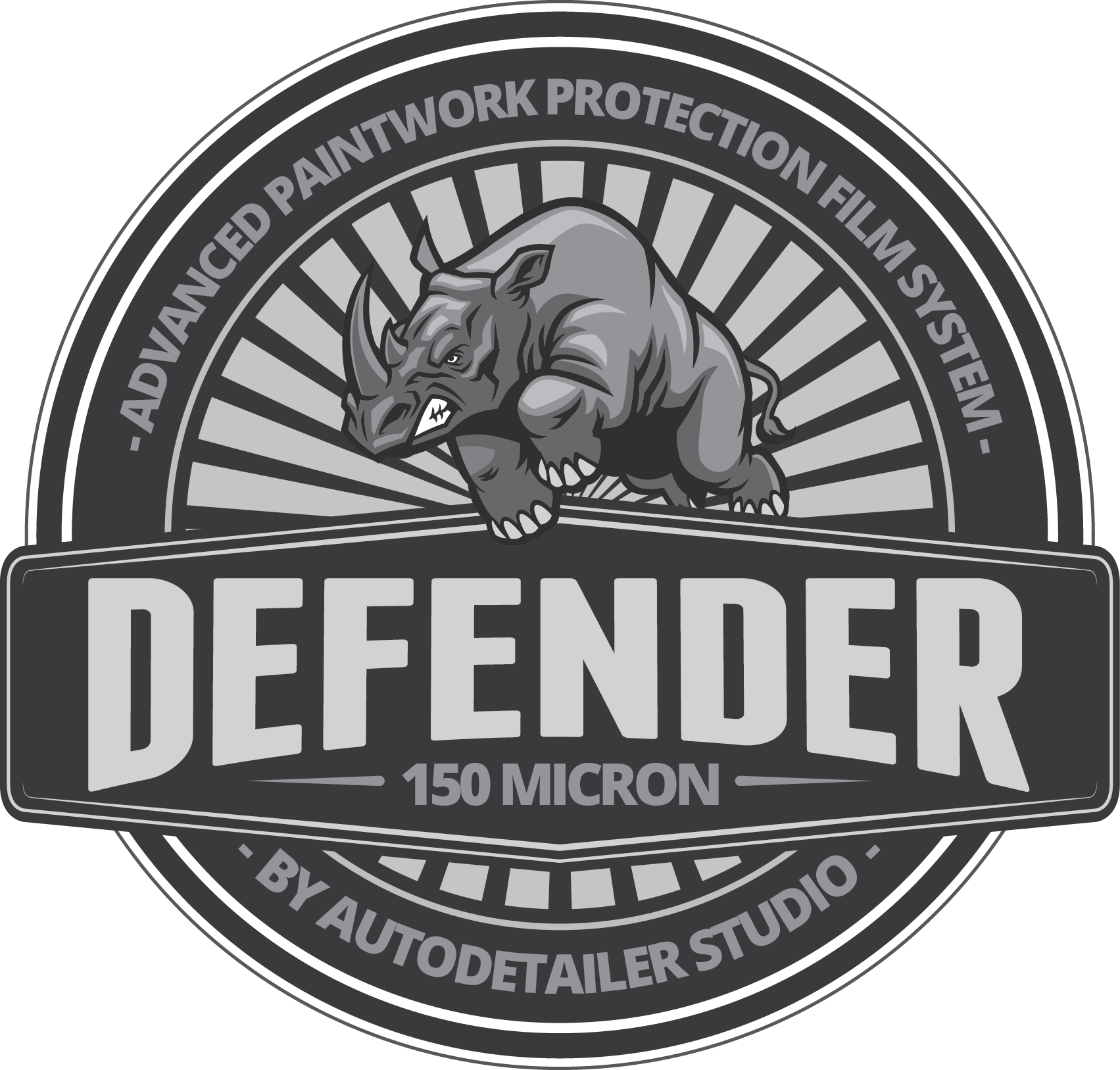 What is DEFENDER?
DEFENDER Plus 150-Micron is our entry-level film protection that gives you more than 300% protection than your vehicle's clear-coat while offering the latest polymeric technology that offers amazing clarity for a faithful colour reproduction of your cars original paintwork while offering a glossy finish that will make you stand out!
The durability of Defender will give you the confidence to take your next road adventure while knowing your paintwork is protected against the elements of nature!
Affordable Clarity
Designed to excel on vehicles that sport bright coloured paintwork, Defender 150-M offers great clarity that allows your paint depth to stand out in the crowd without breaking your budget! We recommend Defender 150 on vehicles in white, beige and silver hues for best results!
High-Tech Strength
Cruise at speed on the open road or going through the city commute, this new world high-tech polymeric formulation is designed to give your vehicle a high-degree of protection against stone chips, abrasions and debris! Offering up over 300% more protection than existing clear coats, we got you covered for your peace of mind!
Swirl Healing
Designed with the ability to repair fine swirls on the film owing to a unique top-coating feature
Glossy Elegance
Defender renders an amazing gloss finish on your vehicle! Not only does it enhance the vibrance of your paintwork, your car will definitely stand out in any crowd!
Permanence: Keeping It Great
Designed for the life of your car, Defender will give you a lasting shine! With a highly stable molecular base, you will be able to traverse the highways and by-ways for many years to come!
Long-Term Savings Ahead!
Defender is not only cost effective but you get the full benefits of superior protection that only requires a weekly wash to maintain a glossy shine! No more polishing required for the life of your car! Stone chip and abrasion protection also saves you time and money on stone chip repairs and paint touchups!
Why Defender Plus 150-M is for you
Formulated for white, champagne and silver metallic hues, Defender 150-M offers excellent value for superior strength, clarity and gloss!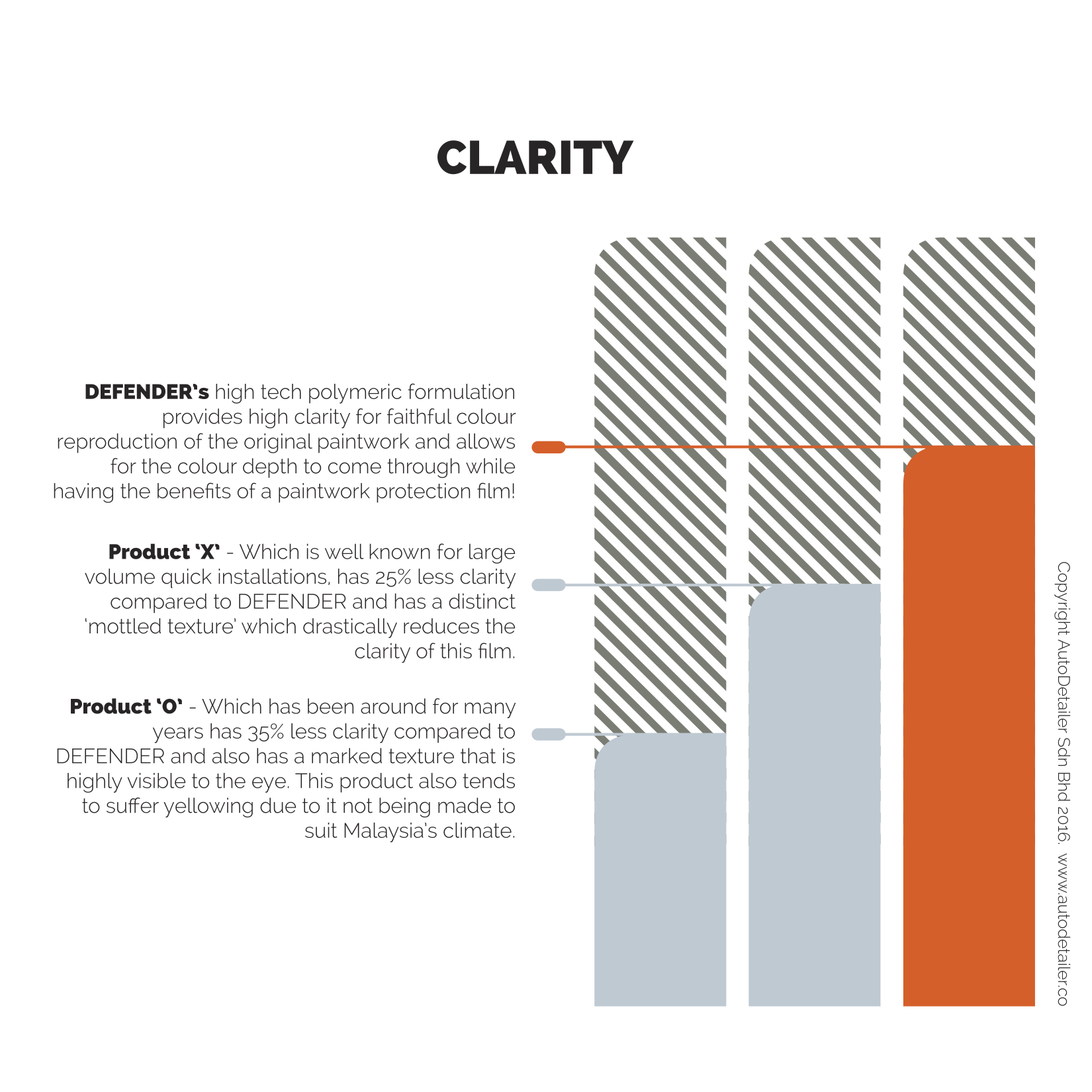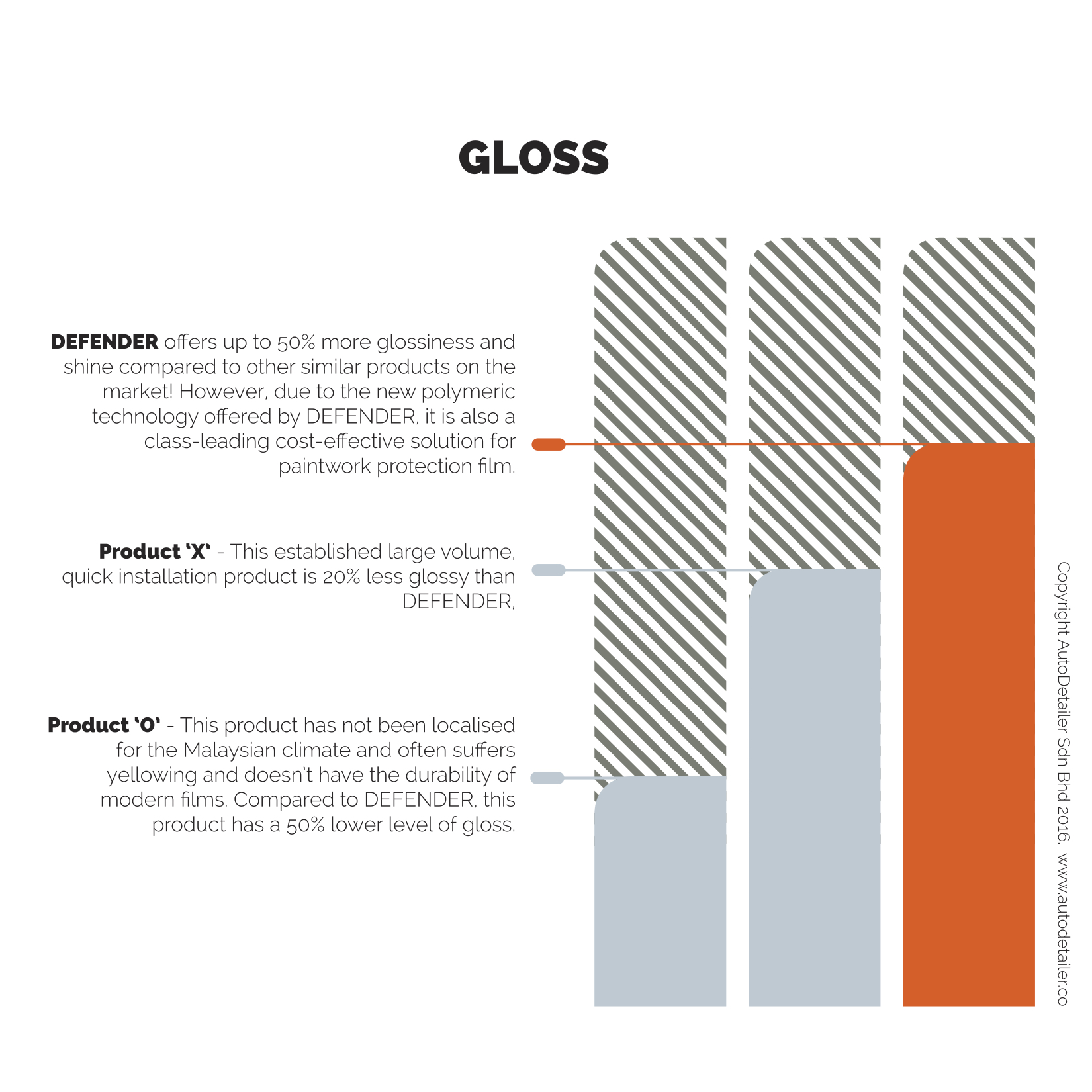 Suitable for motoring enthusiasts who are looking for a cost-effective solution but using the latest technology in protection without compromising on durability, glossiness and clarity!
How does DEFENDER 150M work?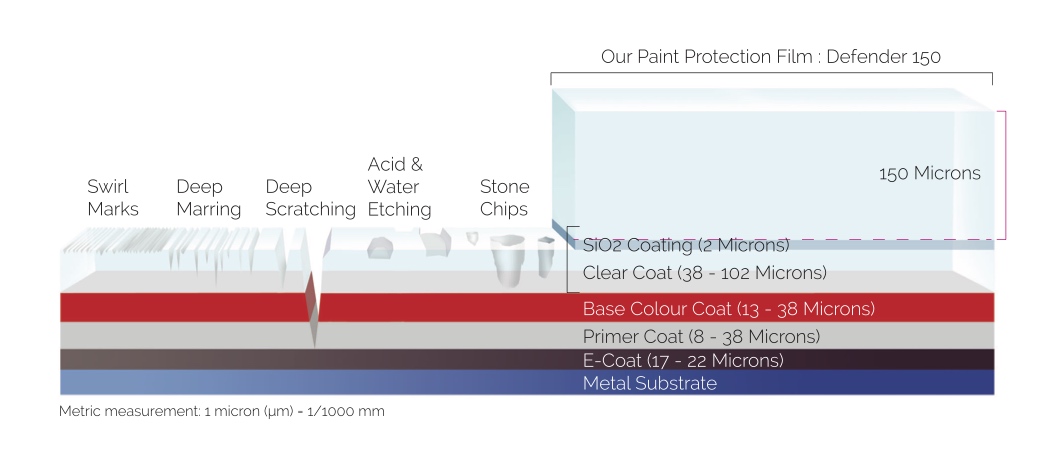 IMAGE CAPTION: (LEFT) Common damage from swirl marks, marring, key scratches (vandalism), acid and stone chips can easily damage your clear coat and paintwork, (RIGHT) DEFENDER forms a durable barrier against common damage to paintwork while ensuring your paintwork retains a glossy lustre.
How long can Paintwork Protection Film last?
- A fully installed and maintained ClearGuard Nano Paintwork Protection Film can last up to 10 years and is backed by a warranty from the film manufacturer(terms and conditions apply).
How do I maintain my car's exterior after installing Paintwork Protection Film?
- We recommend just a weekly wash. Your Paintwork Protection Film also features an additional SiO2 hydrophobic coating (glass coating) for additional protection which can be renewed every 12 months.
Do I need to wax or polish my car after installing Paint Protection Film?
- Paintwork Protection Film does not require any polishing or waxing of any kind after installation. It will retain its shine just with weekly washes.
Are there any visible seams after the film is applied?
- None at all. All our Paintwork Protection Films are custom measured and cut to each car and we do not use any pre-cut templates. The finish is totally seamless!
What if my existing paintwork is a matte finish?
- For vehicles with a matte finish; we offer DEFENDER Matte Paintwork Protection Film that will blend into your existing matte paintwork. Our other films ClearGuard Nano™ and Defender are gloss based films.
Can I use DEFENDER Matte film to give my existing gloss paintwork a matte appearance?
- Absolutely! DEFENDER Matte can be applied on top of your glossy paintwork to transform it instantly to have a matte appearance.
How does a Paint Protection Film differ from a coating?
- Silicon Dioxide(SiO2) coatings are a semi-permanent, cost-effective protection option against dust, debris and oxidisation that will require an annual renewal. Paint Protection Films are a robust almost permanent form of protection against, dust, debris, oxidisation and stone chips that will last anywhere from 5 to 10 years! Films are usually between 200% to 400% thicker than the original clear coat. Both coatings and Protection Film only require a weekly wash. Both don't require any waxing or polishing but retain a very vibrant shine and clarity!
If I choose to use a Paint Protection Film, can I also get it coated?
- Absolutely! Our rugged and durable Paint Protection Films can be coated with our unique Signature Hydrophobic Coating(formulated specifically for paint protection films) for an additional layer of protection while leaving your vehicle with a level of shine that is breathtaking!